Our Fellowship programme has been running in Uganda since October 2012. In the first round, STI4D and B4FA welcomed 20 Ugandan media professionals from print, radio and TV into the Fellowship. Many are based in Kampala, but some of our Fellows hail from the regions, from the south west to the east and the north west. What brought them together, other than their profession and communications expertise, was a shared passion for agriculture and how science and technology was able to help farmers in the country.
The Fellowship programme kicked off with a four day long residential training and dialogue workshop, held at the Speke Resort and Conference Centre, Munyonyo, Kampala from 31 October to 3 November 2012. Fellows were able to interact with scientific, regulatory and journalism experts from Uganda, Kenya, Sudan, the UK and US over the four day period, and made two field trips to the Kawanda Agricultural Research Institute (KARI) and the National Crop Resources Research Institute (NaCRRI), Namulonge – two of Uganda's premier research stations for agriculture. Case studies of biosciences work being carried out in Uganda were reported by senior representatives from the Plant Genetic Resources Centre in Entebbe, the Kachwekano Zonal Agricultural Research and Development Institute (KAZARDI), KARI, Agro-Genetic Technologies Ltd, the Association for Strengthening Agricultural Research in Eastern and Central Africa (ASARECA), and the Ugandan Coffee Research Centre (COREC).
Thereafter, B4FA fellows in the country continued to write and publish pieces on key scientific work and regulatory developments in Uganda and internationally, and made further visits to other research centres in Uganda, facilitated by B4FA. As a result of feedback, B4FA was delighted to extend the fellowships from the original 6 month timescale to a full 18 months, in order to consolidate the learning and experience. This encouraged even more local reporting and engagement.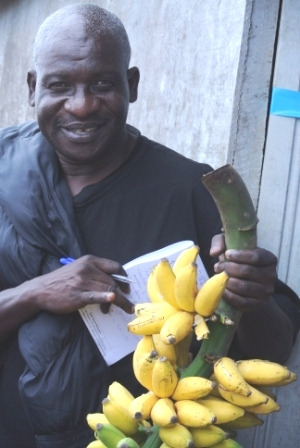 In 2013, STI4D and B4FA commenced a second round of Media Fellowships in Uganda with a training and dialogue workshop held at the Speke Resort and Conference Centre, Kampala from 10-13 April. We welcomed a further 20 media professionals into our family of Fellows, and had the opportunity to invite back a number of our alumni Fellows from the first round. Fellows were again able to interact with scientific, regulatory and journalism experts from West and East Africa, Europe and the US over the four day programme, and made field trips to National Agricultural Research Laboratories at Kawanda, and the Mukono Zonal Agricultural Research and Development Institute (MUZARDI). Case studies were presented by senior representatives of ASARECA, Agrogenetic Technologies Ltd, NARL Kawanda, the Cotton Development Organisation and NACRRI Namulonge.
B4FA fellows in Uganda continue to research, write and broadcast about latest development in plant breeding, agriculture and crop genetics in Uganda, Africa and the world. Read the workshop reports and press cuttings below.
Related Posts
B4FA Media Fellows – Uganda

Alex Nsubuga – Researcher, Programmer and Producer; CBS Radio.  Alex Nsubuga attained a Bachelors Degree in Mass Communication and a certificate in Investigative Journalism. He is currently …

B4FA Media Workshop Uganda 2012

Initial Dialogue and Training Workshop on Plant Breeding, Genetics and Biosciences for Farming in Africa PROGRAMME Speke Resort, Kampala Please click on a presentation title to view …