Project Aim: Develop and test a new method for improving access to healthcare for unserved Maasai communities in Northern Tanzania , using human-centred design methods for community impact, developing an innovative method to help remote patients get access to quality healthcare at a lower cost to health authorities than building and staffing new hospitals.
Outcome: We conducted over 11 different types of research activity in 4 rural Maasai communities, with a total of over 200 participants including health professionals, to determine health needs and priorities. Successfully applied existing video-conferencing technology combined with basic diagnostic equipment and medicine delivery to run 4 remote health clinics with overwhelming patient demand.
Future Aims: Apply concept to run long-term remote health clinics over several months. Collect rigorous impact data and develop business model for widespread rollout of concept across Rural Tanzania and sub-Saharan Africa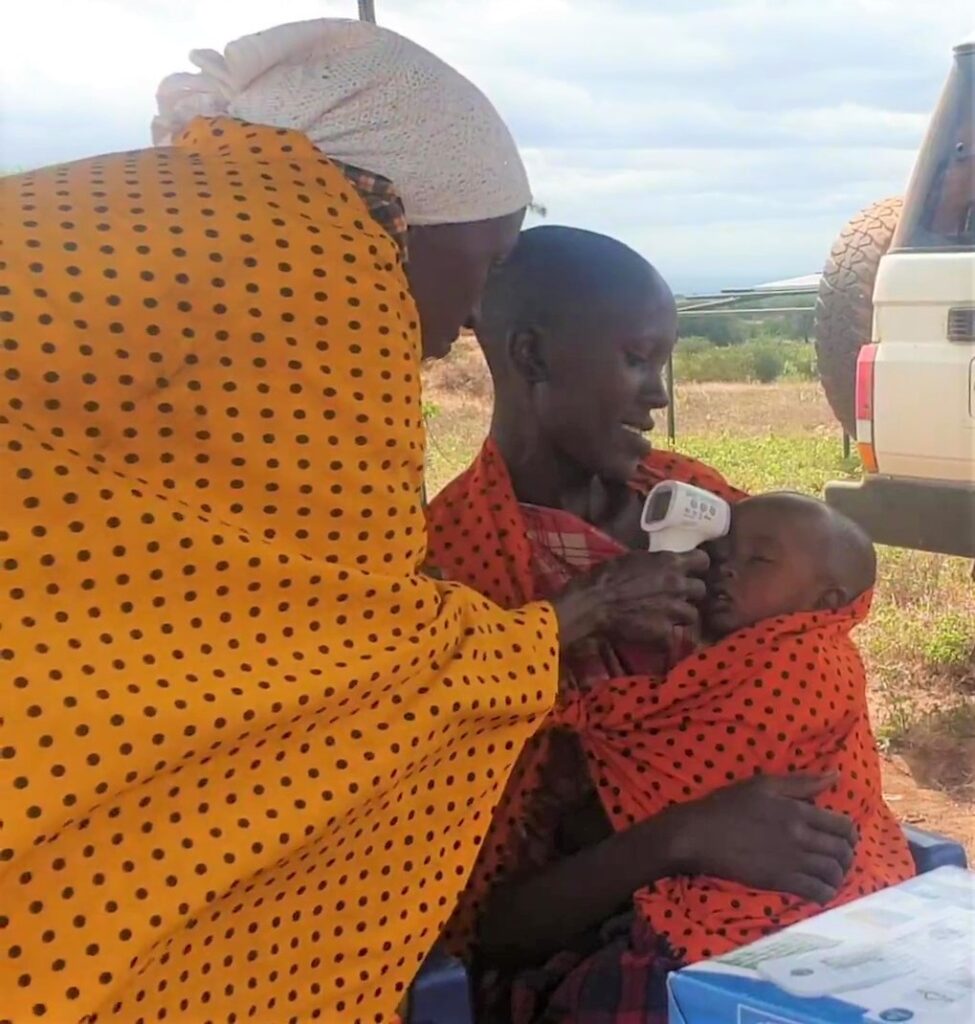 Our concept enabled patients to access the services of a qualified medical professional at a fixed time each week via videoconference, with basic diagnostic measurements taken by trained community operators. Prescriptions can be delivered from the nearest pharmacy in batches, reducing costs to individual patients, and saving them the time, effort and cost of making the journey to the nearest health facility. In turn, this should lead to improved uptake and health outcomes in the community, and help health authorities get better data on the health challenges facing their remote populations.
Project Achievements
During the 6 months from October 2020, to March 2021, we achieved the following:
1.Carried out extensive community engagement and research in partnership with OMASI, to verify the remote communities healthcare needs and priorities. This included over 11 different types of research activity in 4 rural Maasai communities, with a total of over 200 participants, 6 Tanzanian health professionals (both public and private, in Arusha and remote dispensaries of Simanjiro), the International Health NGO CACHA, and Tanzanian District Health Officials. Our findings illustrated the need for improved access to healthcare in remote communities, and demonstrated how digital healthcare innovations could help.
2. Conducted preliminary technology tests with doctors and patients in 2 rural dispensaries. For these tests, patients at the dispensary called a doctor from a neighbouring room for the first part of their consultation, enabling us to validate the feasibility of patient diagnosis remotely via videoconference, and demonstrating the concept to the doctors, for whom the concept was relatively new. Patients could easily see the doctor in person after the initial consultation, to ensure our tests did not impact the quality of service they received. Feedback from patients and doctors was extremely positive, with suggestions used to plan the next phase of testing.
3. Implemented our solution in 2 off-grid communities over 4 days, working closely with a local doctor, and continuously improving our approach with each remote health clinic. After planning the tests with a doctor, we advertised the clinics in the communities, explaining that patients would be able to talk to a doctor via video-conference without needing to travel to his dispensary in person. Over 70 rural patients turned up seeking treatment, with ages ranging from 1 to 78. Each patient had their vitals (blood pressure, temperature, blood oxygen and malaria tests as appropriate) taken by an operator and sent to the doctor prior to having their consultation. In the first community, OMASI operatives ran the clinic, but to demonstrate the self-sustainability of the approach, the clinics in the second community included locally trained operators, as would the case for long-term implementation.
After seeing 10 patients, the doctor would organise the packaging and delivery of prescribed medicines from the main town to the remote community, enabling patients to receive treatment without needing to travel. Due to the long journey and wait times, we decided to stocked some more common medicines at the second community during the final two clinics. 65% of patients received medication with just 23% of patients requiring a follow-up in-person appointment. Detailed feedback was sought from all involved in the tests, and illustrated how beneficial a remote telehealthcare system could be. All patients saved time and money on transport, with many patients admitting they rarely visited the hospital because it was so far away. Even those still requiring an in-person visit to the doctor were extremely happy to do so, knowing the journey was necessary. Our most common piece of feedback was patients requesting the service be made more widely available and permanent.
The technology proved viable, with simple phone networks used to provide data at the first community, and a microwave relay boosting internet to the second community where phone signal was non-existent. The first two clinics were conducted free of charge, with patients only paying for medicines if they were illegible for government health insurance. To verify that demand was not only due to the free service, the final two clinics were run with a fixed fee of 1000TSH (half the cost of an in-person consultation). Despite this, patient demand was higher than ever, with more patients seeking treatment than the doctor had time to see!
4. Gained buy-in of District Health Officials who gave us permission to run long-term implementation and evaluation tests. These long term tests are crucial to build a strong evidence base supporting our approach, and are fortunate to have good relations with the District Health Authorities who may help us to further roll-out our solution if successful.
Our Route to Large Scale Adoption
Following our work on this short project, we believe that telehealth and simple video consultations have huge potential for improving access to quality healthcare in remote communities across Sub-Saharan Africa. We are now planning the next steps to bring our solution to market, starting with long-term trials in 6 remote communities across Northern Tanzania and Western Uganda. During these trials, we will aim to:
Understand effect on demand for existing healthcare system
Validate improved health quality in target communities
Develop qualification for remote clinic operators and train local operators
Develop financial model to present to health authorities for large-scale roll-out
Refine software used, for video conferencing, patient data transfer, and medicine supply tracking
Partner with additional private/public local doctors/nurses, health NGOs, and health authorities.
Summary reports from this project can be downloaded below.
STI4D carried out this 6 month project jointly with our partner NGO in Tanzania, Orkonerei Maasai Social Initiatives (OMASI). This project was funded by InnovateUK, the UK's Innovation Agency.