Adelaide Arthur – Joynews Multitv, Accra. Adelaide is a practising broadcast journalist with Joy News on Multi TV. With four years experience in journalism she has worked as an intern with Ghana Television and GFA News. She holds a degree in Communication Studies from Ghana Institute of Journalism, GIJ.
Audrey Dekalu – GNA, Accra. Audrey is a journalist who has worked with the Ghana News Agency (GNA) over the past 12 years. Mrs Dekalu, who is a Chief Reporter, has acquired rich experience in health and science reporting. She holds a Bachelor's degree in Communication Studies from the Ghana Institute of Journalism, the premier journalism training school in Ghana. She has attended many international and local workshops and seminars on health and science that have improved her knowledge on the subject. She has to her credit several feature articles and news stories on health, science and other social issues, and now has additional responsibility for selecting and editing stories from major foreign news agencies for GNA's foreign news subscribers. She has been awarded certificates from the American Cancer Society, World Bank, and Ghana AIDS Commission amongst others.
Dela Russel Ocloo – Daily Graphic, Accra. Dela holds a Diploma in Communications Studies, Journalism option from the African University College of Communications and has been working with the Daily Graphic for the past four years. She is currently pursuing a Bachelor's Degree in Communications Stuudies, Journalism option at the Ghana Institute of Journalism.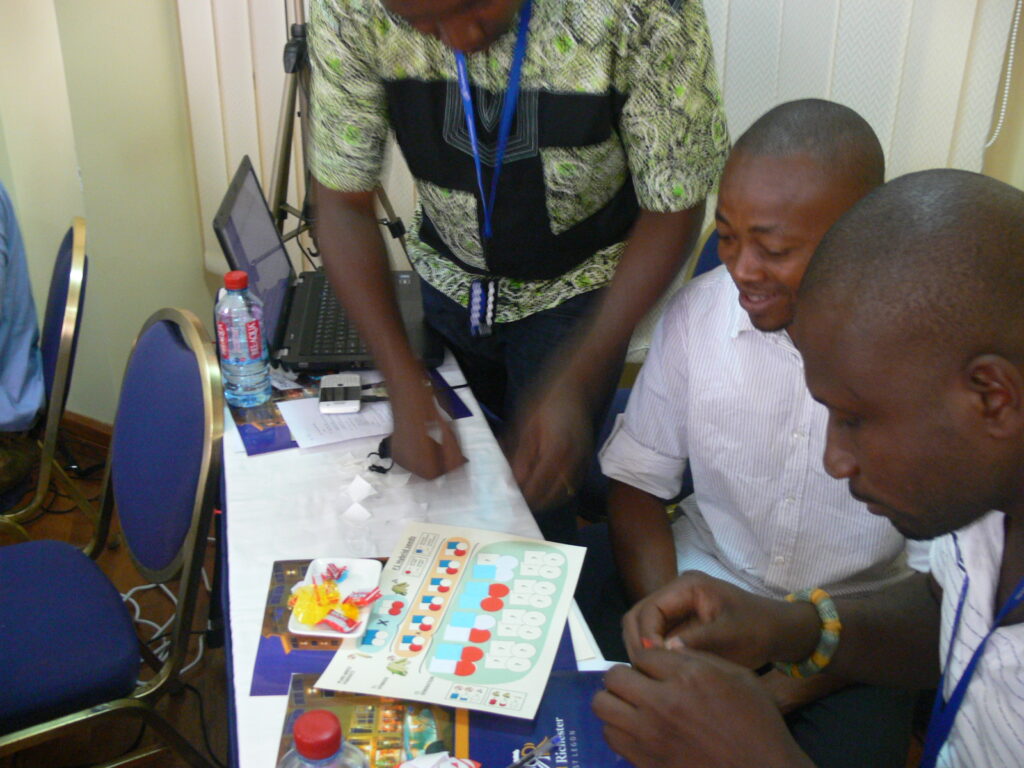 Hoenyefia Noah Nash – Viasat, Tamale. Hoenyefia Noah Nash is a dynamic individual with a diverse range of experiences in administration, research and security, and reporting. He has Bachelor degree in Education (Mathematics) from the University of Cape Coast and Certificate in Script Writing. He worked as Teaching Assistant / Research Assistant in the Department of Communication Studies for two years. He has worked with the University of Cape Coast campus based radio station as a volunteer for six years as a presenter and reporter, with Choice FM in Accra and Nigerian production house PDR Media Services. He has traveled extensively in Africa, and is a passionate activist on education, agriculture, gender and social issues. He is currently the video journalist for Viasat News in the Northern Region (Tamale).
Kingsley Elijah Hope – New Times, Kumasi.
Kofi Adoma – Adom FM, Tema. Stephen Kofi Adoma comes from Berekum in the Brong Ahafo Region of Ghana. He is a teacher by profession but has worked as a journalist for close to nine years. He began work as a Journalist with no particular qualification or training in Journalism but has come this far as a result of hardwork and his passion for the job. He began his career at Shalom Radio in Berekum then moved to GBC radio in Ho in the Volta Region, then to Fox Fm in Kumasi. He later moved to Hot FM in Accra and finally to Adom Fm in Accra where he works as a news anchor and talk show host. He also a sit in host for the station's morning show He is also the host of a popular weekly TV show ''Yesee Yese'' aired on Multitv. He loves to see things done well.
Kwabena Ampratwum – Luv FM, Kumasi. Kwabena began work in the media immediately after completing secondary school, becoming associated with the Luv fm Newsroom as an intern for six months whilst waiting for his results and continuing to work there and at Joy FM in Accra during his university days. He is a graduate of the University of Ghana with a BSc. Agric, crop science option. He did his national service at the Ministry of Food and Agriculture in Obuasi. He later joined MTN Ghana, before returning to mainstream media. He is currently a news anchor and producer at Luv Fm in Kumasi where he resides.
Malik Abass Daabu – myjoyonline, Accra. Malik holds a Bachelor's degree in Communication Studies from the Ghana Institute of Journalism and edits Myjoyonline.com, Ghana's comprehensive news portal. He has been working there for the past four-and-a-half years. Malik has also worked with the Daily Graphic newspaper and enjoyed court reporting probably because of his special interest in law. Prior to going to the Ghana Institute of Journalism, Malik had three year's experience as a teacher, having taught in two different schools after completing college in 2001. He is currently pursuing a Bachelor of Laws programme at the University of London External Programmes.
Mark Boye – The Enquirer, Accra.
Mohammed Sulemana – Public Agenda, Accra.
Npong Francis Balikawu – The Enquirer, Tamale. Npong Francis Balikawu (writing as Francis Npong) is a climate change communications consultant holding numerous diplomas and certification in journalism, media, business and environmental issues. He has more than 7 years working experience as a journalist, currently working with the Enquirer as Northern Regional Correspondent, and a reporter for Thinkbrigade.com (www.thinkbrigade.com), an international online magazine run by European Journalism Center focusing on global environmental, climate change, human rights, development and democratic issues. He has participated in many environmental and agriculture related workshops, winning several awards including the 2009 EPA environmental reporting award (print), 2010 EJC overall best climate change blogging award.
Nyadror Nelson Adanuti – Diamond FM, Tamale. Nelson Nyadror Adanuti reports for Diamond FM, Tamale in the 'challenging northern region.' He works to expose injustices that have led to poverty, underdevelopment and malnutrition among others by bringing various actors on board to help address these through the power of radio. Nelson's scope widens from reporting and producing features on health, education, agriculture to human rights and disabilities. Over the years, he has benefited from series of training and advocacy programs, but still thinks there's more knowledge to be acquired and shared with listeners of his radio station and his community at large. A Ghana Journalists Association Award winner, he is a graduate of St Francis Xavier University, Nova Scotia Canada where he obtained a Diploma in Development Leadership. He also holds a Diploma in Journalism from Manifold College in Accra.
Samuel Hinneh – Daily Dispatch, Accra. Samuel Hinneh is a graduate from the African University College of Communications in Ghana with communication studies in 2008. He is currently working at Allied News Limited as full time journalist, publishers of the Daily Dispatch Newspaper, the leading political and research based newspaper in Ghana, reporting on science, development and technology issues. He is also a freelancer for Science and Development Network (UK), the world's leading news hub for science, technology and development issues in the developing world. He also freelances for online media organisations Modern Ghana Media Limited (www.modernghana.com), and Spy Ghana (www.spyghana.com).
Stella Danso – Daily Guide, Accra.
Umaru Sanda Amadu – Citi FM, Accra. Umaru Sanda Amadu is a twenty five-year old broadcast journalist with an Accra based Radio Station Citi Fm (97.3 MHz) with specialization in General News. He is a graduate of the Ghana Institute of Journalism where he obtained a Diploma in Communication Studies. He is currently a news producer, reporter and presenter at Citi Fm in Accra. He has been nominated for several awards and recently won the ''Jury's Special Award'' for the 2012 Radio for Peace Building in Africa Competition. He has a background in agriculture; namely, cattle and crop production. He is an exciting fellow to work with.
Wilfred Otoo – Daily Searchlight, Accra.
William Evans Nkum – TV3, Kumasi. William Evans Nkum began his career as a journalist in 2007 at Kapital Radio, a Kumasi based radio station. He later moved to TV3 in Accra where he is currently working as their Ashanti Regional Correspondent. He loves news reporting with particular interest in Agricultural reporting since the sector contributes significantly to our Country's GDP. He is considering developing his Journalism career specialising in Agricultural Science related reporting. He holds a Diploma in Communication Studies from the Ghana Institute of Journalism.
Yakubu Abdul-Majeed – New Times, Tamale.  Yakubu Abdul-Majeed is the Northern Regional correspondent for Ghanaian Times News Paper. He hails from the Northern region and sees his work as a journalist as an opportunity to help improve on the lives of his people by highlighting the developmental challenges of the area for them to be addressed by policy makers and other relevant stakeholder. He holds a Degree in Pulic Administration from Ghana Institute of Management and Public Administration with a Diploma from Ghana Institute of Journalism.
2013 FELLOWS
Agustina Apik – Editor in Chief, GBC Radio.
Albert Sore – MultiTV, Bolgatanga.
Basiru Adam – Business & Financial Times, Accra.
Clement Boateng – Radio Bishara, Tamale.
Charles Benoni Okine – Daily Graphic, Accra. Charles is a senior financial correspondent on the Business and Financial Desk at the Graphic Communications Group Limited. He attended the Ghana Institute of Management and Public Administration (GIMPA) where he obtained his BSc in Marketing in 2006. He also holds a certificate in Management from GIMPA. Prior to the pursuit of his first degree, he attended the Ghana Institute of Journalism (GIJ), obtaining a Diploma in Journalism/Communications and winning GIJ awards for his economic reporting and performance on attachment. He also undertook a rigorous programme at the International Institute of Journalism (IIJ) of InWEnt Capacity Building International, Germany and obtained a certificate in Economic and Financial Journalism in 2004.
Cliff Ekuful – Ghanaian Times, Wa. Cliff is a journalist by profession and works with the New Times Corporation of Ghana as a senior reporter. He is currently based in the Upper West, where he serves as Regional Editor. Cliff holds a Diploma in Mass Communication from the Ghana Institute of Journalism, a BSc in Tourism from the University of Cape Coast and an MPhil in Development Management from the University for Development Studies.
Dansowaa Awuku – MultiTV, Accra.
Ebenezer Hanson – Asst Editor, Public Agenda.
Edmund Gyebi – Chronicle, Tamale.
Fati Shaibu Ali – Senior Editor, ETV.
Frank Nyonator Worlanyo – Metro TV, Accra.
Fred Kuuku Smith – ETV and Happy FM. Fred Kuuku Smith is currently the news editor at e.TV Ghana and Ghana correspondent for e.news channel Africa. He has 16 years of diversified and progressive broadcast experience. A father of two, he is committed to trying to make a difference.
Isaac Nongya – Metro TV, Tamale.
Manasseh Azuri – Finder, Accra.
Roland Walker – TV3, Accra.
Saeed Ali Yaqub – Editor, Luv FM, Kumasi.
Saminu Rafi Zambaga – Finder, Takoradi.
Samuel Boadi – Editor, Daily Guide, Accra. Samuel Boadi has worked with the Daily Guide newspaper for over 10 years now. He joined the newspaper after working for two years with Top Radio (103.1 fm), an Accra-based radio station as a news reporter. Currently the Business Editor of Daily Guide, he used to edit the BUSINESS GUIDE too. He has a BSc in Marketing from the University of Professional Studies (UPS), Legon.
Samuel Duodu– Daily Graphic, Sunyani.
Shirley Asiedu-Addo – Daily Graphic, Cape Coast.
Zakaria Alhassan – Daily Graphic, Tamale.